The Moody Blues Nominated for Rock & Roll Hall of Fame
October 5, 2017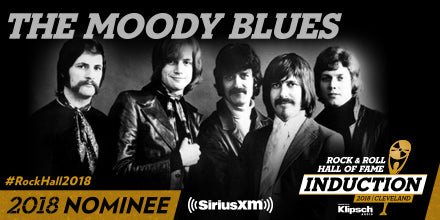 On Thursday, October 5, The Moody Blues were named a 2018 nominee for the Rock & Roll Hall of Fame.
"We are very honored to be considered for an induction into the Rock & Roll Hall of Fame.  We know that the fans have been diligently supporting us along the way on this, and that it means a lot to them, as well as to us.  Being a British band, we are grateful for our American recognition, and especially to fans who have been with us throughout our musical journey."
-Justin Hayward, John Lodge, Graeme Edge
Fans are able to cast their ballots towards the online "Fan Vote". The top five artists from the fan vote will comprise a "fans' ballot" that will be counted along with the other ballots to determine the 2018 inductees.
Help get The Moody Blues inducted into the Rock & Roll Hall of Fame by casting your ballot at rockhall.com/vote. You can vote once per day and voting will close on December 5, 2017.
Share the news with your friends and family on social media by using #RockHall2018! Thank you for your support!
"The songwriter in me says…
Nineteen sixty six to two thousand and seventeen
From U Haul trucks To Limousine
Progressive rock and flower power
The Filmore East the Filmore West
Disco Punk and Music Fests
To all the fans who've joined us on the way
And to the Rock and Roll Hall of Fame
Thank you from the Moody Blues
And I'm honoured to have your nomination today…….
But the 14 year old boy looking in the music store window
at a Fender Precision Bass says thank you"
-John Lodge